Senior Respite Care for Caregivers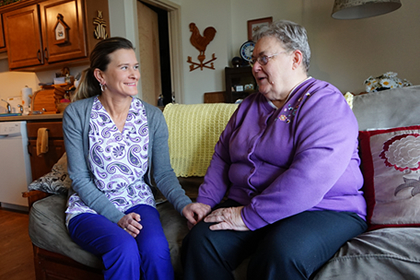 Brevillier offers planned or emergency Erie respite care for seniors so that their caregivers can take a hiatus, be it for vacation, personal time, or pressing issues. Most major insurance companies can provide this much needed rest when the time comes.
What is Respite Care Exactly?
Sometimes respite care is needed when a caregiver must travel or has other responsibilities which need their attention. Respite care provides a way for caregivers to be temporarily relieved from their round-the-clock duties. At Brevillier, our Erie respite care for seniors typically includes:
24-hour supervision and security
Assistance with personal care needs
Housekeeping
Laundry service

Meals and snacks
Medication management
Social, spiritual, and recreational activities
Transportation
A Difficult Decision
We understand the difficult decision caregivers face when deciding to utilize respite care services. However, we hope to give you peace of mind by letting you know that we pride ourselves on delivering the highest-quality services to our seniors. Caregivers should never feel guilty about taking time for themselves. In fact, it's necessary to care for yourself before you can adequately care for someone else.
Our Compassionate Staff
Leaving the care of your loved one up to someone else can be difficult, however, our Erie respite care team is comprised of compassionate, highly-trained staff who can provide the level of care that is needed. Oftentimes, caregivers can use this time to meet our team and give our campus a trial run for future respite care services and/or personal care.
Call Us Today
Again, we understand how difficult caregiving can be and how stressful it can be to make the decision for respite care, however, we're here to assist you. If you need to take some personal time from your caregiving duties, call us today at 814-899-8600 or click here to visit our contact page for Erie caregiver support services.