Erie Alzheimer's and Dementia Care for Seniors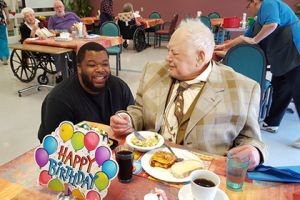 Brevillier Village offers a licensed personal care facility and memory support for residents with Alzheimer's and other forms of dementia. Barnabas Court North is a Secure Dementia Care Building licensed by the Pennsylvania Department of Human Services. The unit features secure coded doors and state-of-the-art iris scanners to prevent at-risk residents from leaving the facility unattended. Barnabas Court North also has painted doors that provide an anxiety-reducing diversion for wander-prone residents.
Our compassionate Erie Alzheimer's and dementia care staff also receive specialized training to work with residents in the various stages of dementia to ensure their unique needs are met. Our team also completes many observations and numerous other 'touches' per day so families can be assured that their loved one is safe and sound.
The Stages of Alzheimer's and Other Forms of Dementia
At Brevillier, we understand every resident is unique and that our residents with Alzheimer's are all going through a different stage of their dementia. That's why we take an active role to educate our Erie Alzheimer's and dementia care staff about how to maximize each resident's independence while also addressing their safety and health needs.
We have staff members who are certified in dementia training.
Barnabas Court North
Both private and semi-private rooms are available at Barnabas Court North. This facility also has 24-hour supervision to ensure residents' safety and the safety of others. In addition to our Erie senior memory care services, we also have 24/7 nursing, maintenance, and emergency staff on the premises at all times.
For our residents' convenience and support, we have an on-site rehabilitation and therapy center for physical, occupational, and speech and respiratory therapy. Moreover, some research indicates memory support services can help stimulate the memory of those with dementia, and in some cases may even slow the progression of the disease. If you or a loved one is in need of memory support services, contact us today at (814) 899-8600 or email us at admit5416@brevillier.org.
Brevillier residents use the IRIS retinal identification scanner to open a secure door in Barnabas Court North.