Alzheimer's and Dementia Assistance for Seniors
Barnabas Court North
At Brevillier Village, we use the term Memory Support (also referred to as "Memory Care" or Alzheimer's Care) to describe services we provide to our residents who have Alzheimer's and other forms of dementia. Barnabas Court North is a Secure Dementia Care Unit licensed by the Department of Human Services.
Both private and semi-private rooms are available at Barnabas Court North. Our social workers, recreation staff, and Erie memory care providers all participate in continued education to ensure our seniors receive the support and services they need to fulfill their lives, while also maintaining their independence.
When You're Ready for a New Home
If your loved one is struggling with Alzheimer's or another form of dementia and needs more care and supervision than can be provided at home, our Erie memory support services are a great solution. Generally, it's important for those with cognitive challenges to receive 24-hour supervision to ensure their safety and the safety of others.
It's never an easy decision to choose assistance for ourselves or our loved ones, but at Brevillier, we make the decision easier by providing the supervision required for seniors with dementia while also helping them to maintain their independence and a high-quality of life.
Resident Centered Care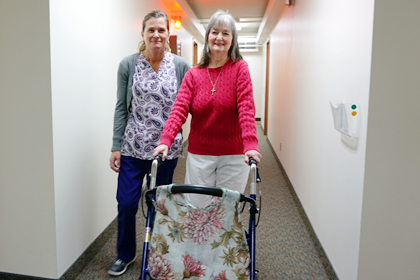 At Brevillier, we aim to meet as many of your individual needs as possible at our Erie memory care facility. We offer housing, dining services, maintenance, security, personal care, memory support, and many opportunities for seniors to socialize. We have a 24/7 nursing, maintenance, and emergency staff on the premises at all times.
For our residents' convenience and support, we have on-site rehabilitation which includes physical, occupational, and speech and respiratory therapy. Moreover, Barnabas Court North's memory support services can help stimulate the memory of those with dementia, and in some cases slow the progression of the disease.
If you or a loved one is in need of Erie memory care services, contact us today at 814-899-8600 or email us at admit5416@brevillier.org.