About Brevillier Village Brochure
History of Brevillier Village in Erie, PA
Brevillier Village is a multi-level retirement community sponsored by the Episcopal Cathedral of St. Paul in Erie, Pennsylvania. We are solely dedicated to serving the continuing needs of older adults.
The Village is located on a 20+acres of lakefront property known as the Brevillier Estate. Located five miles east of downtown Erie, it is bordered on the north by beautiful Lake Erie and on the south by East Lake Road.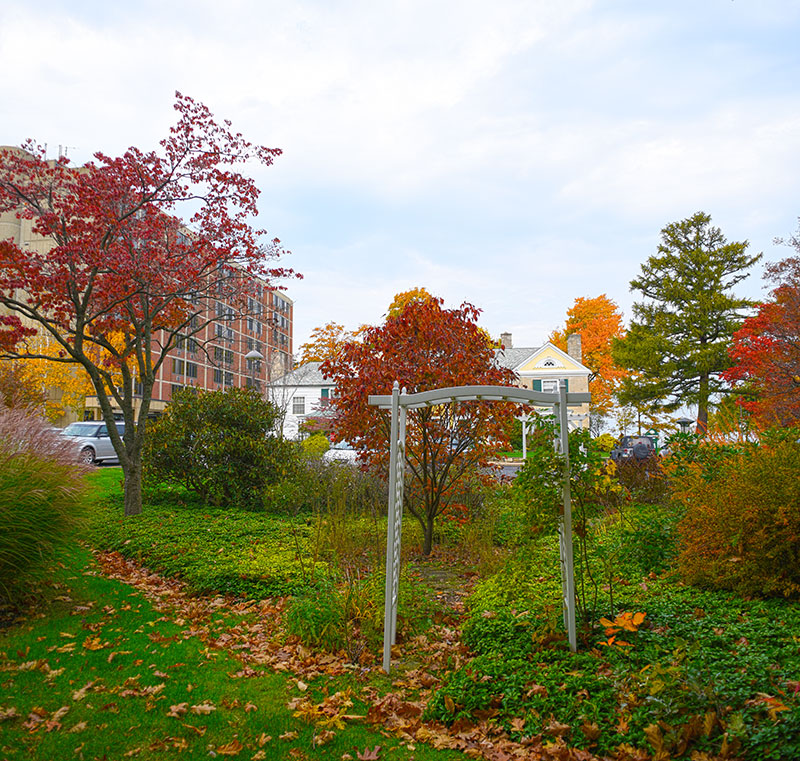 The history of Brevillier Village has been shaped by four major influences which included the:
Episcopal Brothers of St. Barnabas Home in Gibsonia, PA
Brevillier Family
Ball Family
The campus of Brevillier includes:
Ball Pavilion
Barnabas Court North
Barnabas Court South
Conrad House
St. Barnabas Chapel and Education Center
Oceana Ball │ The Ball Home
Miss Oceana Ball was the last surviving child of Gideon J. Ball, Civil War Major and prominent local politician. Until her death in 1933, she owned and operated the Ball Home located on 61 East 6th Street.
The Ball Home provided shelter for 15 to 18 women at one time. Upon her death, the home and her estate were bequeathed to the Episcopal Cathedral of St. Paul to continue her mission of providing residential living for elderly women. In the early 1970's the Ball Home was sold and a trust fund was established which was used as collateral to build the original Ball Pavilion which opened November 29, 1977.
Barnabas House-By-The-Lake
In 1915, the Brothers of St. Barnabas, an Episcopal order of priests in Gibsonia, Pennsylvania, were given lakefront property outside North East, Pennsylvania. They built a summer home and retreat for the Brothers and began their outreach in Erie County.
Over the years, hundreds of men and boys were cared for at St. Barnabas House. It was supported entirely by good will offerings and endowments. The dedicated leaders were Brother Willard Gilpin and Brother David Nash.
In 1977, St. Barnabas House closed its doors when state regulations prevented compliance due to financial costs. The remaining 22 residents of the home became the first residents of Ball Pavilion at Brevillier Village, which began operations in November of that same year.
The Brevillier Family Mansion
Frederick A. Brevillier was born in Erie, Pennsylvania in 1866. His family lineage can be traced back to the French Huguenot origin. Family founders were refugees who fled to Germany to escape persecutions brought on by the revocation of the Edict of Nantes in 1685.
Mr. Brevillier began his business associated with C.M. Conrad when the firm was absorbed by the Erie Brewing Company around the year 1900. He met his wife, Katherine Conrad, who was the daughter of the owner of Erie Brewing Company. Mr. Brevillier was elected secretary and later vice president and treasurer when the Bank of Erie Trust Company was organized in 1918. Mr. Brevillier died in 1944 and Katherine in 1960. The Brevilliers had no children or heirs.
In the 1930's the Brevilliers began building the two story mansion that still stands at Brevillier Village today. Originally it was built as a summer home but soon became Mrs. Brevillier's permanent home.
Upon her death, Katherine Brevillier bequeathed the mansion, property and trust to the Episcopal Cathedral of St. Paul that it be used for "religious, charitable, educational, and such other similar purpose for the elderly."
Fraulein Margaret Elizabeth Brudsche & The Pussy Willow Tea Room
Fraulein Brudsche was a close personal friend to Mrs. Frederick Brevillier (Katherine Conrad). Fraulein Margaret Brudsche was married to Oscar A. Brudsche. He was a bookkeeper at Buffalo & Lake Erie Traction Company.
Fraulein was a companion to Mrs. Brevillier and in return was given a small cottage on the Brevillier Village property, which she renovated and operated as the well known Pussy Willow Tea Room. The food and recipes were loved in the Erie Community. The Pussy Willow closed in 1974 and the landmark was demolished in late 1975 to prepare for the construction of Ball Pavilion, which was scheduled to open on November 29. 1977.
Barnabas Court South
Barnabas Court South originally opened on April 1, 1986 as Barnabas Court. Today, the facility offers nursing services, three meals each day, linen and laundry services, housekeeping, and 24-hour emergency assistance. It is open to older adults of all faiths who require minimal assistance, and are more independent. It is a personal care facility but also offers residency and independent living options.
Barnabas Court was named to honor the spirit of St. Barnabas House By-The-Lake, as a memorial to its history of mission and service. Barnabas Court South was designed in 19th century country manor style similar to that of the Brevillier Mansion. Barnabas Court was dedicated on May 4, 1986 and was officially renamed Barnabas Court South in August of 1998.
Barnabas Court North
Barnabas Court North is a one-story building of medical personal care services and is designated as our memory support unit. The Barnabas Court North mission is to give loving, caring service to seniors who have dementia, memory difficulties, and/or need moderate physical assistance.
The private and semi-private rooms offer 24-hour nursing care along with assistance with activities of daily living. Moreover, there is a congregate dining area that encourages fellowship. There are many recreational activities available daily which include social, educational, and spiritual activities.
Barnabas Court North officially became a licensed personal care facility in August of 1998. This structure was originally built in 1977, and from November 29, 1977 through August 18, 1998 was the original Ball Pavilion, our skilled nursing facility.
Conrad House
Conrad House was named for Katherine Conrad Brevillier. It was built and opened in March of 1972. The Conrad House is an eight story high rise apartment building with 96 apartments that is about 100 feet from Lake Erie. Every single apartment has a view of the lake.
The building went through a $3.1 million renovation in 2013. This apartment setting for independent living offers studio, one bedroom, and a few two bedroom apartments. A beauty salon, small grocery store, and large multi-purpose room are available for activities.
The community living areas include a fitness room, large and small print library, and several sitting areas. A Wellness Suite is available to offer a variety of health care services to independent living residents.
Ball Pavilion
Ball Pavilion is a single story, 85 bed, licensed skilled-nursing care facility. Ball Pavilion was originally built on the site of the Pussy Willow Tea Room and opened its doors on November 29, 1977. Throughout the years, as the residents required an increased amount of care, the original building became obsolete.
A "new" Ball Pavilion was constructed on the east end of the Brevillier Village property. The doors opened on August 18, 1998.
Nursing service is provided by registered nurses, licensed practical nurses, and certified nursing assistants 24 hours a day. In addition, physicians, dentists, pharmacists, physical and occupational therapists, respiratory therapists, speech pathologists, social workers, recreation staff, a chaplain, and dining services staff make up a treatment team that views each resident as a unique individual with a wide variety of medical and emotional needs. Residents from other buildings and the community can take advantage of our rehabilitative therapies either through a short inpatient stay or outpatient therapy through our own Brevillier Village Rehab staff.
ST. BARNABAS CHAPEL
Recognizing the spiritual needs of residents, various religious services and activities are scheduled routinely. A part-time chaplain is available to residents and families in all levels of care at Brevillier Village.